'Ackie One Two Three' is the latest and third studio album written, performed and produced by 'The Beaten Track'; brothers Andy and Vin Murtagh, originally from Birmingham, England and now based in North Wales.
The album consists of twelve original songs and has input from half a dozen friends and family musicians active on their local live music scene. The contributions range from Hazel Sturt's deep and solemn cello notes in the stripped down country ballad 'Face The Other Way' to Christian Parry's searing electric blues guitar licks in the angry break up piece 'That's What I'm Told', two tracks that contrast in pace, mood and emotional intensity.
In addition to Vin's lead vocal and Andy's multi-instrumentalism, there's backing vocals from their sister, Annie James (most notably in the title track); there's additional six and twelve string guitar accompaniment from brother-in-law Bob James. The vocal skills and tin whistle playing of local folk musician and singer songwriter, Alan Manouch feature in 'The Pictures Ronnie Drew', a tribute to the late Dubliners vocalist and a nod to the brothers' Irish heritage and musical influence, the melody being drawn directly from the traditional air, 'Spancil Hill'.
The album opens and closes with the same melody and the overdubbed sounds of children playing happily. This bookends the songs and gives the effect of an integrated 'album' in the old school sense of a series of character songs with related themes, in this case of loss, regret and loneliness, as well as upbeat celebrations of kinship and love.
The opening track 'Ackie One Two Three' is a nostalgic recalling of the brothers' hometown of Birmingham, "a town, of concrete, cuts and villas" and the setting of six siblings playing a game of hide and seek. The celebration is underscored by Andy's rolling piano solo reminiscent of Jerry Lee Lewis or Little Feat's Bill Payne. It's a joy that gives way to apprehension "what happened to those girls and boys?" and the songs that follow give some clues.
They've been brothers for fifty
years but only started
producing music together in
2010! Vin and Andy Murtagh
are originally from
Birmingham and now based in
Colwyn Bay, North Wales.
They combine a love of rhyme and luscious wordplay with folk and country sensibilities, drawing as well on their Irish heritage. Andy's technical know-how and sensitive production compliments Vin's lyrics to tell stories based on age old themes of love and longing and evoke moods ranging from sombre melancholy, righteous anger, loss and loneliness,
regret and outright joy.
It's all in their new album, 'Ackie One Two Three'.
The Beaten Track interview on
Mike Read's Show for BBC Radio Berkshire 06/06/13
For TV & Radio enquiries contact
JEFF CHEGWIN, NATIONAL TV & RADIO PR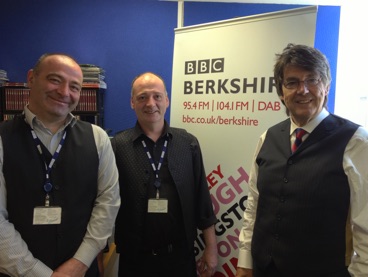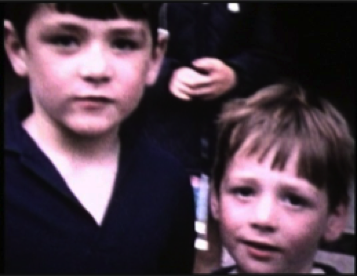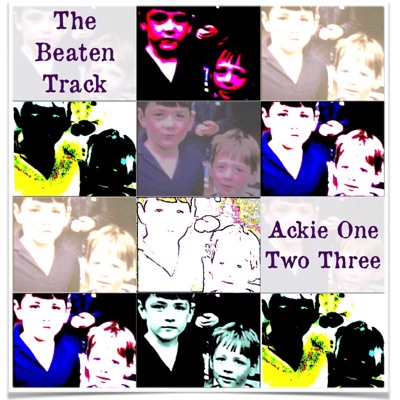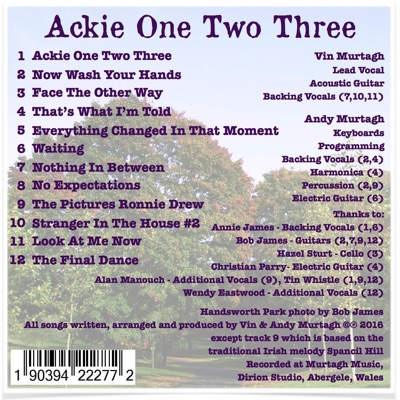 The album closes with a call and response duet, a conversation between Vin's 'ghost' and Wendy Eastwood, a country balladeer in the guise of an angel, it's almost a musical counselling session with salvation being offered and initially refused, optimism denied and ultimately accepted. It includes a harpsichord solo, Andy's own nod to his 70s prog influences. Hank Williams meets Rick Wakeman!
In many ways the album is an unlikely marriage of contrasting musical influences. Vin is primarily a fan turned writer/performer; a country influenced songwriter concerned with rhyme and wordplay and the emotional pull of a song story. You can feel the melancholy of Townes Van Zandt in 'Face the Other Way', and the wordplay of Elvis Costello in 'Nothing In Between' and 'Stranger in the House #2' (an acknowledgement Elvis's song of the same name, written for George Jones). Add to that the vocal intensity of Christy Moore and Lucinda Williams and the ever present spirit of Hank Williams and you have Vin in a musical nutshell.
Andy is a music teacher by trade and is known in North Wales circles as a skilled and sensitive producer, mostly of local singer songwriters. His background is as a pianist with a jazz and classical grounding, but with a love of 70s disco and funk. In the 1980s he enjoyed some success with a jazz funk outfit, 'The Nightcatchers', signed briefly to RCA and with a single produced by Level 42's Mark King. He brings his own skills, influences and personality to Ackie One Two Three, helping to shape the sound without crowding it or undermining the emotional intensity of the songs.
In a departure from the previous two albums this project is characterised by a variety of keyboard solos and flourishes that feature strongly but serve the mood throughout. In 'No Expectations', who's lyrics examine the fault lines of sex and intimacy, the vocal is served by a sparse classical piano styling that adds to it's reflective tone. Andy adeptly turns his hand to a beautiful traditional country piano interlude in 'Stranger in the House #2', a honky tonk blues in 'Look at Me Now', and a beautiful cascading piano sequence in 'Now Wash Your Hands'. One of the musical highlights is the keyboard layering in 'Nothing In between', which has the overall effect of creating a choral feel for an existential hymn.
Ackie One Two Three is The Beaten Track's most mature work to date, a fruitful collaboration of styles and influences resulting in a set of songs, at once thoughtful and entertaining, Enjoy!!